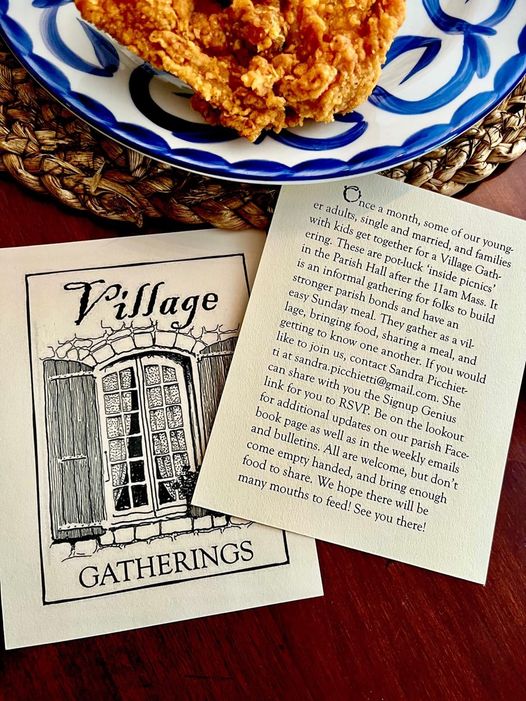 Calling all young adults, single and married, and families with kids! We are kicking off a new ministry to help us come together as our Catholic Village here in Peachtree Corners. If you want to meet other young Catholics and families, make lasting friendships, and have your kids meet other Catholic kids, then this is the ministry for you!
We plan to gather for Sunday pot-luck lunches in the Parish Hall on a monthly basis. Food will be provided by the Village (i.e. all of us attending).  This is a great way to get involved and start to build stronger parish connections. We hope to have fun, grow in relationship with one another, and just enjoy life. Not to mention, it's an easy and fun way to have a leisurely Sunday lunch!
Village Gatherings
Potluck Lunch after the 11am Mass
Calling all young Catholic adults (single and married, and families with kids): Join us for a potluck lunch after the 11am Mass on Sunday. We'll gather as a village, bringing food, sharing a meal, and getting to know one another. We can't wait to see you there! Sign up below!
Upcoming Gatherings will be:
*Sunday, September 11th –> Sign up here: https://www.signupgenius.com/go/10C0D4BACAD2BA4FAC52-september
*Sunday, October 9th–> Sign up here: https://www.signupgenius.com/go/10c0d4bacad2ba4fac52-october