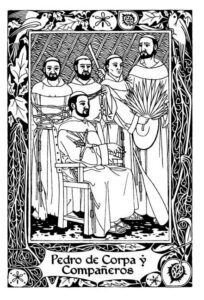 The Church was in the American South (la Florida) fully two centuries before St. Junipero Serra was building missions in California. These southern missionaries were preaching the Gospel to the indigenous peoples in an area that is today made up of the states of Florida, Georgia, and South Carolina. The missions in coastal Georgia included missions among the Guale peoples, and our five martyrs labored among that particular nation of peoples.
In September of 1597, five of the missionaries were murdered in a rebel uprising that sought to wipe out all the missionaries in the land. One of the central issues was the friars' defense of the sacrament of Christian marriage. Those rebels eventually lost out, and more Franciscans were invited back by the Guale people, serving the tribe for generations.
Eventually, the British colonies wiped out all traces of the Catholic missions as well as the Guale peoples, who were no more. Nevertheless, the martyrs' legacy lives on. The first book (now lost) that was written in what is today the United States was a catechism and primer in the language of the Guale people.
Learn More about the Beatification Cause of the Five Georgia Martyrs through the Resources below:
The Five Georgia Martyrs Website
Lesson Plan: Our Five Georgia Martyrs | Missionaries to the Guale