Welcome!
We are so grateful that you are interested in joining our Elementary Faith Formation program here at Mary Our Queen Catholic Church. Christ desires to build a relationship with all of us, whether we are children, teens, or adults. If you and your family have been wanting to become involved, we encourage you to take that step and become a part of our community! Please let us know if you have any questions, and we look forward to getting to know you.
Early Faith Formation Classes Start on Sunday, September 15, 2019. We look forward to seeing everyone!
Registration for 2019-2020
REGISTRATION IS OPEN!
CLICK HERE FOR ONLINE REGISTRATION FORM
Please complete BOTH the 2019-2020 Registration Form AND the Archdiocesan Media Release Form to complete your registration.
Download 2019-2020 Registration Form Here
Download the Atlanta Archdiocesan Medical & Media Release Form Here
Please note: All EFF Participants Must Be Registered Parishioners at MOQ. Elementary Faith Formation will be on Sunday Mornings only.
EFF Fees: 1-2 children: $100 per child; 3 or more children: $250.00 total
Please complete Front and Back of Registration form – Sections A through E & the Archdiocesan Media Release
A baptismal certificate is required for NEW EFF Registrations if not already on file with MOQ
2nd Grade (first Communion) – Please attach a copy of your Baptism Certificate if

not

already on file at MOQ and a Verification form of 1st Grade Catholic Religious Education if

not

completed at MOQ.
RETURN ALL FORMS/CHECK to Mary Our Queen office, attn. Hazel Rose. Payments may also be made online HERE.
Early Faith Formation Classes Begin

Sunday, September 15, and will be held on Sunday from 9:30-11 am. 
Children will be assigned to one of the following curriculums based on their age and grade level. Sacramental Formation will be incorporated into the Good News and Venture Programs:
Seeds Program: PS-3 and PS-4
Promise Program: K-1st
Good News Program: 2nd and 3rd
Venture Program: 4th and 5th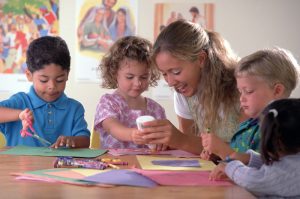 Have Questions?
Contact MOQ Faith Formation
Adult/Teen Faith Formation Volunteers Needed
Mary Our Queen faith formation programs would not be able to function without the continued support of our parents and parishioners. As part of a growing community, we need all the help and support we can obtain! You will be given all the tools you need to be a wonderful asset to the classroom. Please visit our Faith Formation Volunteer Section to read more about how you can help our program in this most important role.