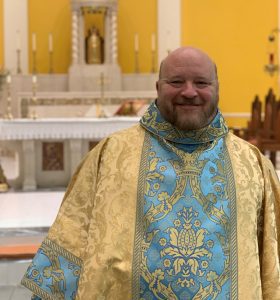 Rev. Charles Byrd
Letter from our New Pastor, Father Byrd
Dear friends in Christ,
My name is Fr. Charles Arthur Byrd, I prefer Fr. Byrd. I was born in Columbus, Georgia in 1964. That was during the Johnson administration (a long time ago). My parents had moved to Columbus as my father spent some time at Fort Benning. He liked jumping out of airplanes, but he soon left the army to become an educator. In short measure, just before I entered second grade, my family moved to Newnan, Georgia. My dad was brought in to help integrate one of the public high schools there. My parents spent their lives educating young people in Coweta County. I was raised protestant, and my parents always took us to church. My father is buried in Newnan. My mother is retired and still living in the home they built together. I have one brother in Savannah, and two sisters in Newnan, along with seven nieces and nephews, some still in high school.
My career before seminary was advertising, and I lived and worked in Louisville, Kentucky for seven years, which is where I was really introduced to Catholicism. I ended up singing in a choir, and I was even the cantor for the Latin Mass there (long before that was common). In my naïveté, I presumed
that the urban parish of St. Martin's was like every other Catholic church, chanting in Latin, committed to urban social work, and with fourth century saints buried in side altars. Still, it was a great introduction to the Faith. I had many Catholic friends, and we traveled often together in Europe. Even some of my Jewish friends started to tell me that I would make a good priest. I wasn't even officially Catholic yet! It is a funny story, looking back. After seven years, I moved back to Atlanta, became Catholic, and hoped that would be enough to satisfy this searching, but I still felt the call to explore seminary. I finished my pre-theology at a Benedictine seminary in southwestern Pennsylvania. I did my Bachelors of Sacred Theology at a Jesuit University in Rome and my License in Sacred Theology at a Dominican University in Rome. I was ordained a deacon in St. Peter's Basilica by the future Pope Benedict in 1999, and Archbishop Donoghue ordained me a priest in Atlanta in 2001.
As a newly ordained priest, I served for nearly two years at St. Andrew's parish in Roswell. From there I was then sent to teach and do formation work at St. Vincent Seminary in Latrobe where I had studied pre-theology. I loved working with men studying to be priests. I was in charge of the spiritual and liturgical formation of the men. While I was there I nearly finished a degree in liturgy in Chicago going to summer school between the fall and winter sessions that I was teaching. After four years I was brought back to Atlanta and spent nearly two years at the Cathedral of Christ the King. I was then moved to Jasper, Georgia, where I was the pastor at Our Lady of the Mountains for over twelve happy years. I am now twenty years a priest and starting my next chapter here at Mary Our Queen, which I am pleased to do.
Off and on I have taught over the years, in colleges, and with our Diaconate Formation Program here in Atlanta. As a priest, I have a reputation for singing a lot. We will be a singing parish. I am also known for having a love of history, for art, and for valuing liturgy. Worship is, after all, who we are. I like embracing the whole of Catholicism. It is a great joy to me. The teacher in me will help us embrace together more and more of our rich heritage. We have time for all of these things. Just know that I am excited to be here, and that I look forward to getting to know you. I will be proud to serve you as your pastor.
In faith,
Father Byrd