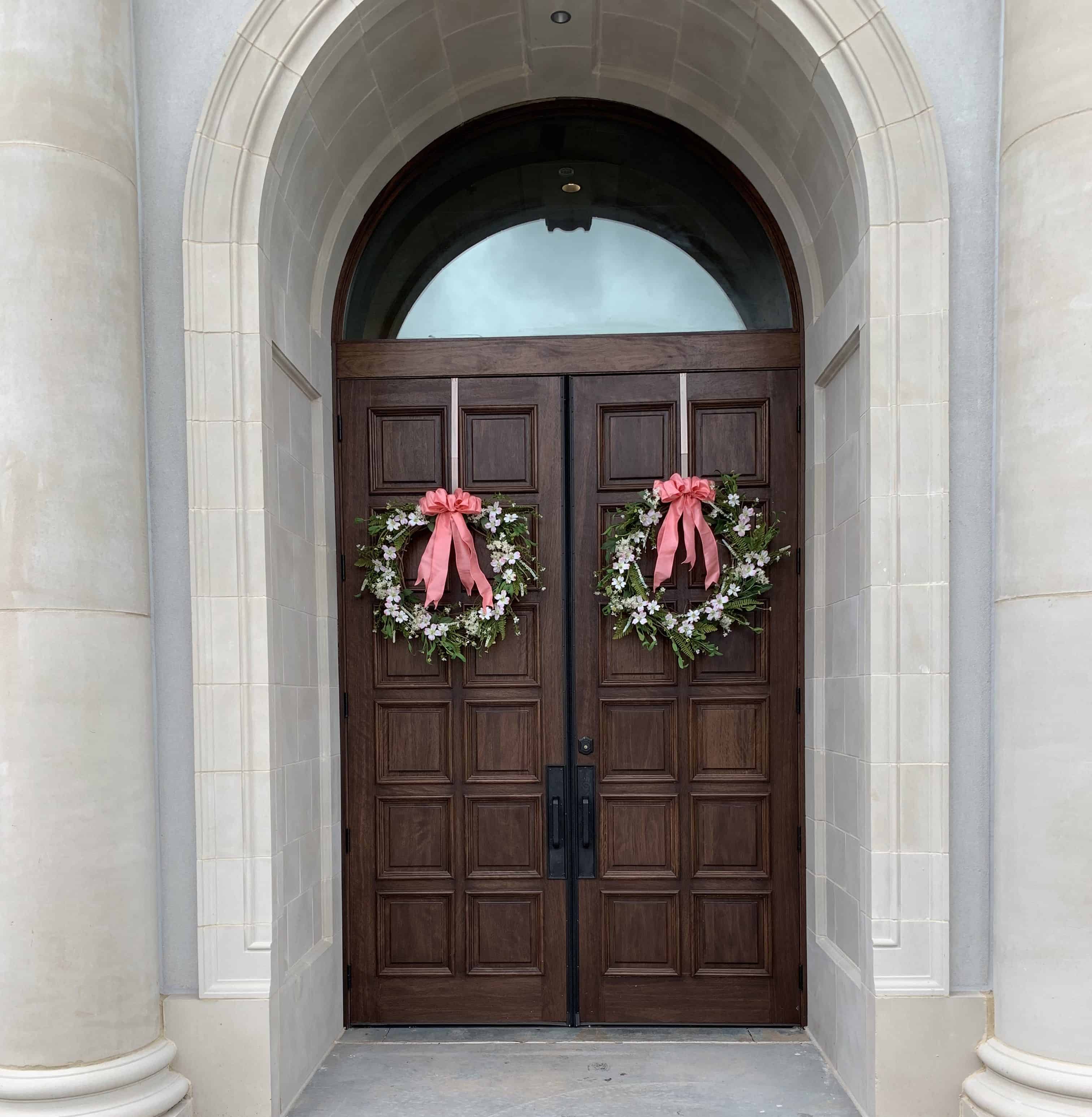 While we all are excited about gathering once again as the Body of Christ, we must recognize that our Masses will look and feel different. Additionally at this time, due to health and distancing concerns that continue for so many, there is no obligation to attend Mass through June 28, 2020.
As part of Phase 1 of our parish reopening we will have many new protocols that all parishioners must follow to attend Mass. These procedures will be reevaluated weekly. If you would like to attend Mass please read through this communication – we thank you for your patience and compliance.
Capacity & Seating Availability
• For now, seating capacity at Masses will be significantly reduced. In our main sanctuary, that equates to approximately 50 to 75 people per Mass in the Sanctuary to maintain a 6 foot social distance in all directions.
• For our Weekend Masses Only, we will provide overflow seating in our Parish Hall, accommodating a maximum of 80 additional people. Final procedures for our overflow seating are currently being finalized – stay tuned for additional procedures and details in the coming days.  
• Because it may be impossible to accommodate all our parishioners for weekend Masses, attendance will be on a "first come first seated" basis — beginning 30 minutes prior to each Mass.  We encourage parishioners to arrive early for our weekend liturgies.
•  Due to the necessity to wipe down the pews and other high-touch surfaces in the church between each Mass, entrance to the church will be through the narthex center doors only
Before You Arrive
• Wash your hands. 
• For ages 2 and up (per CDC guidelines), face masks are required on campus and for the duration of Mass. Best practice is to place your face mask on before you exit your car before approaching the church.
•  NOTE: If you or anyone in your household is feeling sick or is immune compromised, for your sake and that of all in attendance, we ask that you please stay at home and join us via our live-streamed mass.  
• Hand sanitizer will be supplied and required before receiving Holy Communion.
• Do NOT bring items that contain bleach into the sanctuary as this will damage the pews. 
Arrival Procedures
• Wearing Face masks (for ages 2+) are required as soon as you exit your vehicle.
• Arrive 30 minutes before Mass begins to stand in line to enter through the narthex, with an emphasis on social distancing, per household — as clearly defined.
• The center doors leading to the narthex will open 30 minutes prior to the start of Mass.  NOTE: The side doors will not be open for entry access.
• Our designated parish volunteers will seat your household similar to boarding an airplane.
• The church will be seated to fill the open pews from front to back — every third pew.  The pews between each open pew will be closed-off with red ribbon.
• Seating preference cannot be accomplished at this time.  You are asked to please follow the directives of our volunteer ministers.
• You may be sharing a pew with another household, but social distance (6 ft) is required between the households – which may be an individual, a couple or multiple members of a family.
• The holy water fonts remain empty.
• Again, we encourage early arrival — with the doors opening 30 minutes before each Mass.
Mass Procedures
• Masses will be conducted as you have seen on the Archdiocesan YouTube video with reduced volunteer lay ministers. There will be limited use of altar servers, choirs, and lay sacristans.
• Only trained leaders will serve as ushers until further notice.
• The Holy Eucharist will be distributed in the hand only.
• Please keep your face mask on for the duration of Mass – except when receiving the Eucharist.
• There is to be no physical contact between households — at the Sign of Peace or hand holding during the Lord's Prayer.
• Baskets will not be passed during the offertory.  You will be able to place your weekly gift in a basket as you exit the church, but we strongly encourage online giving through our website.
Communion Procedures
• The bishops of Georgia have mandated that Communion not be distributed on the tongue under any circumstance for the time being. (The precious blood will not be distributed.)
• Use of hand sanitizer before Communion will be available.
• There will be Communion lines on the side aisles. Trained parish volunteers will assist in ushering each section.
• NOTE: Masks should be worn in the Communion line. After the priest presents you with Communion please step to the side in the space marked 6 feet away, remove your mask, consume the Eucharist, and then replace your mask as you head back to your pew.
Departure Procedures
• After the final blessing, parishioners must remain in their pew until dismissed.
• Do not remove your mask until you are safely in your car.
• Pews will be dismissed in an orderly fashion starting in the rear of the church and then moving forward. This will be similar to how you exit an airplane (without crowding in the aisles.)
• You must exit your pew when prompted. Private prayer is not available after Sunday Masses to allow the church to be reset for the next Mass.
• The left and right exits at the front of the church will be utilized during departure.
• You can drop your weekly offertory as you depart.
• Clergy will not shake hands in the narthex or front plaza. They will wave as you exit.
• As difficult as this may be — Please do not congregate outside but head directly to your vehicle to allow the next Mass to start on time.
Church Cleaning Procedures
• We will continue to implement cleanliness and sanitation practices, including disinfecting pews between every Mass.
• Disinfecting bathrooms, door handles, and other frequently touched surfaces will occur throughout the day.
• Parish staff / designated volunteers will be required to wear face masks and wash hands.
You are reminded to follow CDC recommendations regarding your own health. If you fall into an "at risk" category, or if you are not feeling well for any reason, we ask that you please stay home and join us via our LiveStream mass that will continue to be offered.
Our official opening will be Pentecost — the birthday of the church! Starting May 30 and May 31 will be returning to our normal Mass Times
Saturday at 5 pm
Sunday at 8:30 am, 11 am and 5 pm
Starting Monday, May 25, our public daily Masses will resume with very limited capacity of 50 people only. Our schedule this week will be:
Monday, May 25 (Memorial Day) at 10 am
Tuesday, May 26 at Noon (Communion Service Only)
Wednesday, May 27 through Friday, May 29 at Noon
As you can see, liturgy is our main priority at this time.  Confessions remain available through appointments during the week.  At this time, private prayer and Adoration remain closed. We will continue to review phasing these back in over the next few weeks.
Our church office will be operational but closed to in-person transactions through June 28 as directed by the Archdiocese. Our staff will continue to be available by phone and email only, which will be monitored regularly throughout the week.  Please view our website and parish emails for announcements concerning all other activities, as we gradually work to bring things back.
Any weddings and funerals that are scheduled would adhere to the above protocols. Non-liturgical gatherings of more than 10 people on the church property are not allowed at this time.
Additional information will be forthcoming regarding Mary Our Queen's plans for the celebration of other sacraments of initiation (Baptisms, First Communions, Confirmation).
We look forward to seeing our many parishioners in the weeks to come and ask for your prayers as we follow the guidelines issued by our government and the Archdiocese of Atlanta.
Please view the below video the Archdiocese created basically explaining the procedures all parishes have been asked to follow: