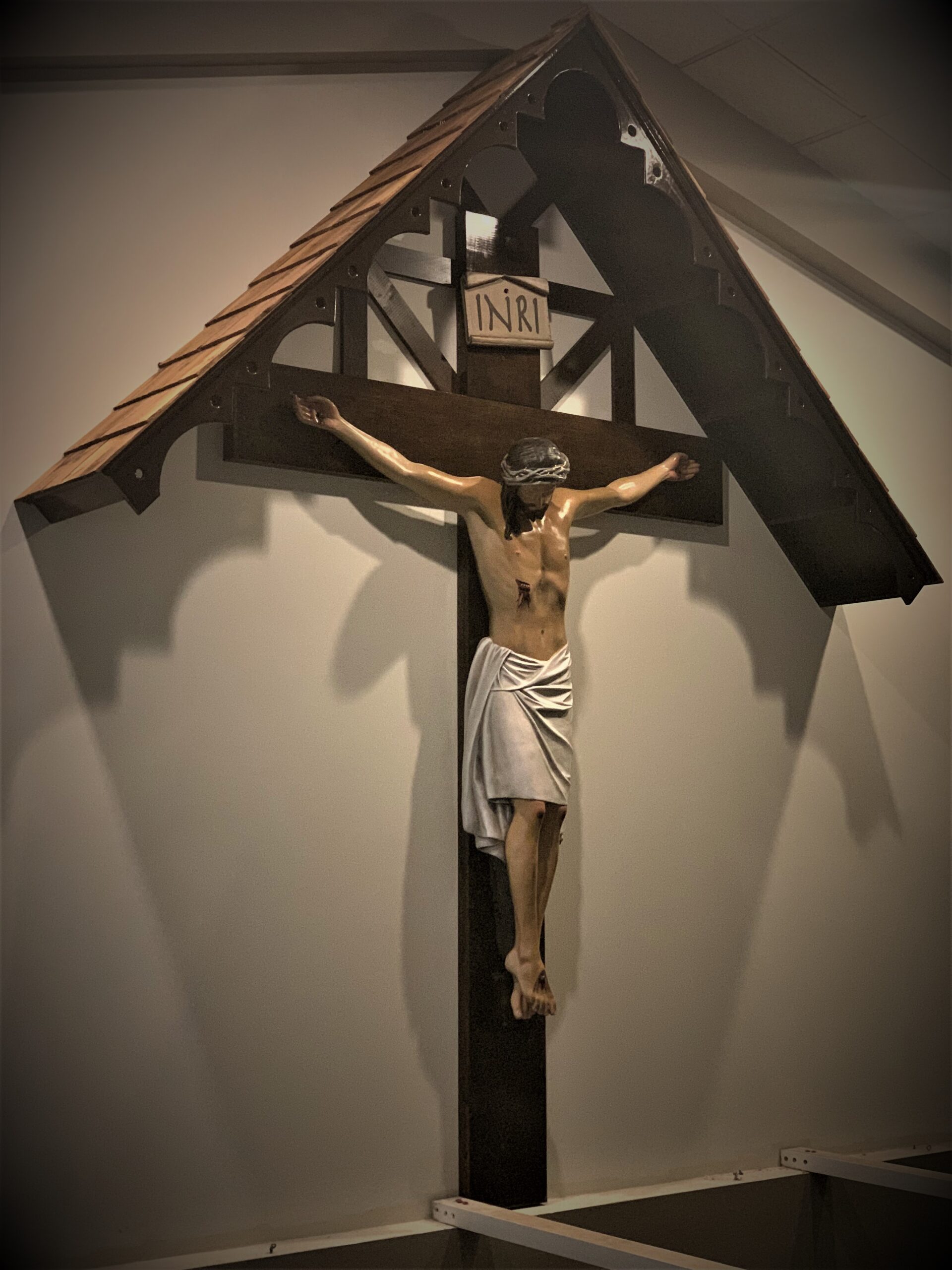 Blessing of our new Wayside Cross in St. Joseph's Hall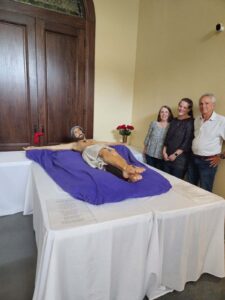 About our Wayside Cross by Father Byrd
Taking a six-foot fiberglass statue of the Corpus of Christ out of its packing crate was a surprisingly emotional moment. It had traveled across the ocean and now saw the light of day in Georgia, where it would presumably remain forever. The statue was primed with a flat white paint, yet even in this initial state, something took one's breath away or made one cross themselves. It was unpainted. It was unblessed. But it depicted him, whom we love, life-size and lying on the floor, his eyelids almost closed, but dead, as his side was already pierced. Jeff was looking at the statue, pondering how he would create his Wayside Cross for the wall of St. Joseph's Hall. For this life-sized corpus, that Wayside Cross would need to be huge … 13 feet or more. Jennifer was down on her knees, looking closely at the statue, pondering how she and Karen, who likewise looked on, would begin their task of polychroming the statue to give it life. Your pastor was grateful there had been no damage in the shipping and realized just how big this wayside crucifix would be, though St. Joseph's Hall is a large room.It needed a sizeable crucifix. Jeff, Jennifer, and Karen immediately decided that it was too big to put in a van and risk damaging the statue, so they lifted it, carrying it to the Trinity Building and into one of the upper rooms, where the ladies would begin to paint the corpus. Meanwhile, Jeff measured to ensure his parts of the Wayside Cross would work now that we could see the actual statue. He lovingly remarked that he was going to be the one who would hang Jesus on the Cross.
In the days and weeks to follow, Jeff continued to craft the parts of the Wayside Cross, getting help with sanding, and planning each angle and detail. Meanwhile, Jennifer and Karen would meet in the warm rooms upstairs (as our AC was slowly dying), applying primers and first tones and then adding such detail that parishioners would never see once the Cross was up, but that would nevertheless be there. It became a labor of love to paint the likeness of the Savior of the World. But their art was also an act of evangelization for the ages. This Cross will be there long after we're gone; we who were there to order it, open it up, and begin the work to see the vision complete.
Decisions were made along the way … decisions for the parish … and these are decisions that every artist depicting the crucifix has to make. How realistic should this be? Can we see subtle blue veins beneath the skin? Should there be body hair, and if so, where and how much? Is there lots of sweat? Might we include bruises? Is it too far to paint lacerations? Should the blood be everywhere, as no doubt it was, or just the blood just be hinted at? How far do the artists want to take this violent reality, given that this will also be a focus of devotion and a symbol of the Lord's victory? It takes prayer and discernment, no doubt, to go here but not  there. So even though our corpus began as a manufactured, fiberglass corpus, it would become something unique through the talents of these ladies and their paints and pencils and brushes, working together, loving their Lord, and honoring their parish with their talents.
We each bring our gifts to the Lord and his Church. Those gifts are sometimes appreciated, but oftentimes taken for granted. It is just what we do. This is what it means to volunteer and contribute to the Kingdom of God beyond any monetary measure. Some work with people experiencing poverty. Some help form young hearts and souls. Some help us come together for festivities. Some support this or that initiative. And some bring their musical or artistic talents into the service of our Lord. A parish is so much more than any one person can do. A parish is a community.
On Sunday, September 17, our Wayside Cross was blessed by Father Charles Byrd in St. Joseph's Hall.