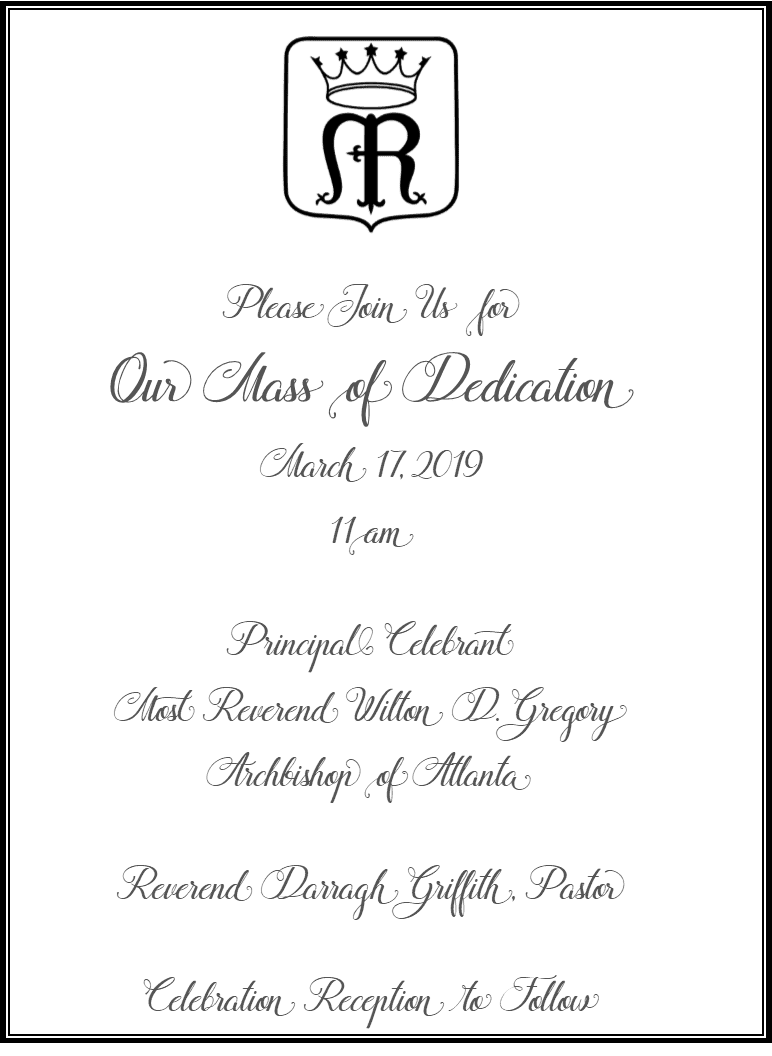 It is an exciting time for Mary Our Queen, and we look forward to coming together as a parish to worship and celebrate God's Blessings in our New Church!
Details for our Dedication Weekend
Saturday Night Vigil
March 16 at 5 pm
You may choose to attend the Saturday Vigil in our New Church and then return on Sunday, March 17th for the Celebration Reception at 1pm.
Given that the Liturgy for the Dedication Mass on Sunday is to last 2.5 hours, families with small children may want to consider whether this might be a preferred option. We will be videotaping the Dedication Ceremony for viewing later.
Sunday Dedication Mass
March 17 at 11 am                                                                                                                                          You may attend the Sunday Dedication Mass  (approx. 2.5 hour ceremony) and join us immediately afterwards for the Celebration Reception. Doors to our New Church open at 10:30 am. We will have some reserved seating for the Archdiocesan Priests, MOQ Committees, General Contractors, and Community Dignitaries, etc.
All other seating is first-come-first-serve. The Narthex will be used for standing room only.
Sunday Celebration Reception
March 17 at 1 :30 pm
It is hoped that everyone will join us in our joyful celebration. Our Reception will be held immediately after the Dedication Mass in the Old Sanctuary. You may choose to attend the reception only and also see the church during this time, as the new church will remain open during the reception following the Dedication Mass.
Dedication Mass Parking Info
~Handicapped & Elderly should use the Crooked Creek Entrance
~The Crooked Creek Entrance will be ONE WAY ONLY for safety purposes
~The Upper level parking lot will be for handicapped and elderly ONLY
~All others should use The Corners Parkway entrance
~ALL vehicles should exit on The Corners Parkway
~ Overflow parking will also be in the Office Park Lot
behind MOQ off The Corners Pkwy
Gwinnett Police Dept. & MOQ's Knights of Columbus will direct traffic on Sunday, 3/17.
We look forward to seeing everyone in our beautiful New Church!